Britain's Bargain- £1 House Up For Auction
Thursday, 3 October, 2019
House prices are so uncertain currently. Brexit is causing a stir all over the UK. No one knows where we stand now, or where we will stand when it comes to house inflation, prices or our mortgages. Yet, Britain hosts a bargain house, which is going up for auction on 22ndOctober for only £1.
The house details.
The property in Rotherham, South Yorkshire is a traditional semi detached house. It is a two story build. It is thoughtto have a kitchen, living room and entrance hall downstairs. Upstairs, it held three bedrooms and a bathroom. It has a nice sized garden out the back too.
There is room for a car to park out the front. There are local amenities, such as shops nearby as well as two local primary schools.
The big catch and downfall of the £1 property.
Unfortunately, nothing cheap comes without a catch. This property needs a lot of work doing to it. Unfortunately, the building next door caught fire in 2018. This left both properties damaged.
In fact, currently it is unsafe to enter and all viewings must from the roadside. The house next door, in which the fire began, will be restoredand possiblyput on the market at a later date.
You can see from the photos that extensive fire damage has occurred. Currently, due to the state of the property, it is exempt from paying any council tax.
Vikesh Samani of Synergy Capital Investments Limited currently owns the property. He has stated: "We initiallywanted to restore the property but, in the end, we decided that it would be best to sell it." A company in Leeds, Property Saviour, suggested they would be better auctioning it.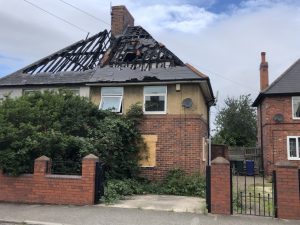 The Perks of The Property & Who Would Be The Perfect Buyer
Restoration of the property needs to take place. It also has a great chance of being grantedpermission for an extention too. The freehold plot is 202 sqm with a garden and driceway. This gives this property a generous space and area to work with.
This would make a perfect project for builders and developers. They have also rebuilt the front boundary as part of estate regeneration.
The Auction Details
The property is being auctioned with no reserve. Buyers can bid either in person or over the phone. If you attend the sale, you will need a photo ID and utility bill for proof of address and a debit card for payment.
The date of the auction is 22ndOctober 2019 and will take place at 2pm. The auction will be heldat The Platinum Suite, Sheffield United Football Club onBramall Lane, Sheffield S2 4SU.
The auction is being hosted by Mark Jenkinson & Son. 
If you want to sell your property, but feel overwhelmed, you may wish to seek advice from our trusted team. We can inform you on how we can buy your property for cash, whilst you look for your next dream home. Perhapsyou'd like a project like the one above.